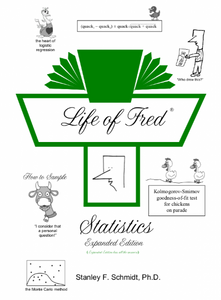 Z-Twist books
Statistics - Expanded Edition
Regular price
$124.00
$0.00
Unit price
per
Tax included.
Shipping
calculated at checkout.
Welcome to the Life of Fred, a quirky young maths genius who will make you look at learning maths in a whole new way. Your kids will laugh their way through learning maths and keep coming back for more.
Lots of statistics and one morning in the life of six-year-old Fred.
 All the popular tests! Normal Distribution, Chi-Squared, etc.
Advanced tests!
Regression equations!
Emergency Statistics Guide!
Field Guide!
Descriptive Statistics (averages, measures of dispersion, types of distributions), Probability, Bayes' Theorem, From a Given a Population Determine What Samples Will Look Like (7 tests), Techniques of Sampling, From a Given Sample Determine What the Population Was (14 tests), Determine Whether Two Given Samples Came From the Same Population (15 tests), Working With Three or More Samples (10 tests), Emergency Statistics Guide, Regression Equations, Field Guide, 16 Tables.
This expanded edition includes all answers! Do not order the answer key with this book.
---
Share this Product
---