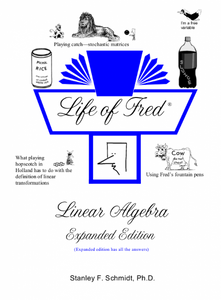 Z-Twist books
Linear Algebra - Expanded Edition
Regular price
$133.00
$0.00
Unit price
per
Tax included.
Shipping
calculated at checkout.
Welcome to the Life of Fred, a quirky young maths genius who will make you look at learning maths in a whole new way. Your kids will laugh their way through learning maths and keep coming back for more.
The Human Face of Linear Algebra
Fred goes on a picnic with his two best friends.
A college-level (post-calculus) course in Linear Algebra which includes all the standard topics . . .
Systems of Equations with lots of ways to solve them
All Kinds of Spaces—Vector, Inner Product, and Dual Spaces
Linear Transformations including linear functionals
All fun! Just open and enjoy.
Solving systems of equations with one, many, and no solutions. Gauss-Jordan elimination. Gaussian elimination. Matrices. LU-decomposition. Vector spaces. Inner product spaces. Gram-Schmidt orthogonalization process. Fourier series. Data fitting. Linear Transformations. Linear functionals. Dual spaces. Eigenvalues and eigenvectors. Markov chains.
---
Share this Product
---