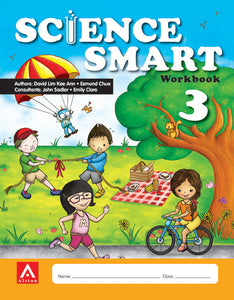 Alston Publishing House
Ding & Dent: Science Smart Level 3: Workbook only
Regular price
$20.00
Sale price
$28.00
Unit price
per
Tax included.
Shipping
calculated at checkout.
Ding+Dent = DAMAGED PRODUCT!
Slight damage to product during shipping. Could be a dented cover, slight damage to the spine etc. Damaged is minor and books are still very useable. 
Damaged product not refundable or returnable.
Science SMART series is developed to cover comprehensively the learning outcomes of the latest Cambridge Primary curriculum framework.

Adopting the Inquiry Approach, Science SMART uses engaging visuals and presentation formats with well-crafted activities to arouse pupils' curiosity about the world around them. This motivates pupils to learn, enabling them to better grasp key scientific concepts. At the same time, emphasis is given on developing pupils' inquiry and process skills, critical thinking, as well as 21st Century skills. 
Science SMART
Level 3 comprises the following components:
Textbook Level 3

Workbook Level 3

Teacher's Guide Level 3 — Contains Scheme-of-Work, lesson plans, wraparound teacher's notes for Textbook and Workbook, with additional information and tips on conducting and delivering effective Science lessons.

Additional worksheets for consolidation, fun & games, and exam practice are available online for teachers.
Together with the SMART characters. Smarty, Min, Ari, Rita and Tom, Pupils will embark on a journey of discovery through each chapter.
Level 3 Science Smart includes the following topics:
Living Things and Their Life Processes - What are the life processes in humans and animals?  What are the life processes in plants?  How can we tell living things from non-living things?
Sorting Living Things - What is classifying?  How can we classify animals?  How can we classify plants?  What are fungi?  What are bacteria?
Fit for Life - What are the different food groups?  Why is a balanced diet and regular exercise important?  How can some foods be harmful to our health?
Introducing Roots, Leaves, Stems and Flowers - What are the parts of a plant?  What are the functions of different parts of a plant?  What do plants need to grow well? How does temperature affect plant growth?
Materials All Around Us - What types of materials are out there?  What properties do materials have?  How do we choose materials to make objects?
Pushes and Pulls - What are pushes and pulls?  What is a force?  What are the effects of forces?
---
Share this Product
---