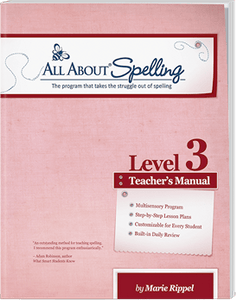 All About Learning
Ding & Dent: AAS Level 3 Materials Teachers Manual Only
Regular price
$55.00
Sale price
$62.00
Unit price
per
Tax included.
Shipping
calculated at checkout.
Ding+Dent = DAMAGED PRODUCT!
Slight damage to product during shipping. Could be a dented cover, slight damage to the spine etc. Damaged is minor and books are still very useable. 
Damaged product not refundable or returnable.
Books both have slight oil Damage to cover only in top right hand corner.
All About Spelling is a building block program: each level builds upon the previous one. In order to build a strong foundation, most students start with Level 1.
The All About Spelling series brings together the three pathways to learning—auditory (hearing), visual (seeing), and kinesthetic (touching). This multisensory approach, combined with a built-in review system and reinforcement activities, ensures that students retain what they learn and understand how to apply it in practical situations.
In Level 3, your student will continue to learn encoding skills, reliable spelling rules, and multisensory strategies for spelling, along with exciting new concepts including 10 new phonograms, the jobs of Silent E, words with C+l-e syllables, contractions, homophones, consonant and vowel suffixes, and past tense. Phonological awareness and encoding skills are taught throughout Level 3. 
For more detailed information and sampling pages please visit All About Learning
For free printables, information and consumable resources visit the Free Resources page from All About Learning
---
Share this Product
---